Neuro-Audio-Screen
Portable Touchscreen System for Hearing Screening of Newborns
Main Features:
all-in-one solution for objective audiometry: TEOAE, DPOAE, ABR
intuitive and user-friendly
wireless Bluetooth interface to export data and print exam results on wireless printer
hearing screening in noisy environment
device memory – 512 Mb, support of SD card up to 32 Gb
*Get a quote, online demo or more information
Write to sales department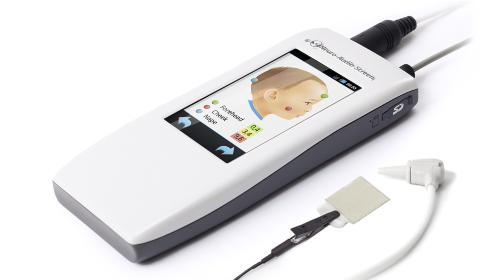 All-in-one Solution for Objective Audiometry
Neuro-Audio-Screen is intended for hearing screening of patients of different age groups including newborns by the following OAE and ABR techniques:
transient evoked otoacoustic emission (TEOAE)
distortion product otoacoustic emission (DPOAE)
auditory brainstem response (ABR) for advanced screening
Intuitive and User-Friendly
4.3″ touchscreen color display is especially convenient for showing the information. Intuitive icons ensure simple device control. Now you can perform the exam with one tap! Small dimensions and light weight make the device portable. You can place it in your pocket and move along the hospital with it, take it to the clinical appointment or to the patient.
The menu with the list of available tests will be displayed on the screen after device switching on. You should insert OAE probe into a patient's ear and start the test by touching the corresponding button on the screen. The test will be performed in automatic mode. After the test the program will give "PASS" or "REFER" result. It is quite simple.
OAE probe is supplied with disposable ear tips ensuring fast probe inserting and cleaning.
The system can be easily mastered by nurses and technicians.
Wireless Bluetooth Interface
Wireless Bluetooth Interface allows to print exam results on wireless printer and export data saved in the device memory to the external computer with installed Neuro-Audio-Screen Manager. Using this program you can generate a list of patients you plan to examine, export exams to the computer database and print results on an office printer.
Hearing Screening in Noisy Environment
By pressing several buttons you can easily change test settings. For example, OAE tests can be performed in the following modes: "Normal (screening)", "Noisy (screening)", etc. It allows to tailor the device for any needs (from screening in a noisy room and up to expert study in a specialized hospital) in a couple of seconds.
Device Memory – 512 Mb, Support of SD-card up to 32Gb
Neuro-Audio-Screen allows storing exams in 512 Mb device memory as well as on SD card (micro SD) with up to 32 Gb memory. High-capacity memory allows to store nearly unlimited number of exams. You can transfer data to information system of your facility to make backup just once in a couple of months.
Neuro-Audio-Screen electronic unit – 1 pcs.
Micro SD memory card – 1 pcs.
OAE-04-2 probe – 1 pcs.
Technical Manual "Neuro-Audio-Screen, Neuro-Audio-Screen/OAE" – 1 pcs.
Calibration Guidelines "Neuro-Audio-Screen", "Neuro-Audio-Screen/OAE" – 1 pcs.
Guidelines "OAE Probes OAE-02, OAE-03, OAE-04 and aScreen Probe" – 1 pcs.
Transportation bag – 1 pcs.
Lodgement – 1 pcs.
License for the use of software "Neuro-Audio-Screen manager" – 1 pcs.