Dedicated Keyboard
Main Features:
Myography has become much better, faster and more convenient with the new dedicated keyboard from Neurosoft!
*Get a quote, online demo or more information
Write to sales department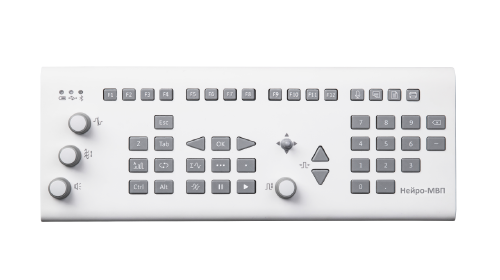 Since December 2006 we start to deliver the new dedicated keyboard. Its presentation took place at one of the largest exhibitions of medical equipment in the world — MEDICA (Germany).
Compact and ergonomic, in the originally designed case, it can easily be placed on the very edge of the table or a couch and won't take too much of the so highly valuable work space. And it is a real pleasure to hold it in your hands!
Manipulating with the checkup parameters has become faster and more convenient due to hotkeys for main functions, encoders and joystick.
The keyboard is capable of wireless functioning via Bluetooth interface. Reliable and stable functioning of the keyboard in this mode is provided by the built-in rechargeable battery with the possibility of its charging via USB-port of the computer.
In the new multifunctional keyboard we embodied the long-term experience of its developers, highly valuable advice of the consultants and users of the previous models. All these were made in order to enable you to focus your attention on the process of checkup and your patient!
The support of H7 interface allows integrating all diagnostic Neurosoft systems to information system of clinics.